---
Moldavite truly is the stuff of stars. Formed by a meteorite impact more than 15 million years ago, Moldavite's intoxicating green color, incredible power, and fascinating extraterrestrial origin make it one of the most sought-after crystals.
But where there's power, there's fear. Many people warn of moldavite dangers, and that frightens people who could potentially benefit from this stone's intense energy.
Can Moldavite, a green tektite from the Czech Republic, really be so dangerous?
What is Moldavite?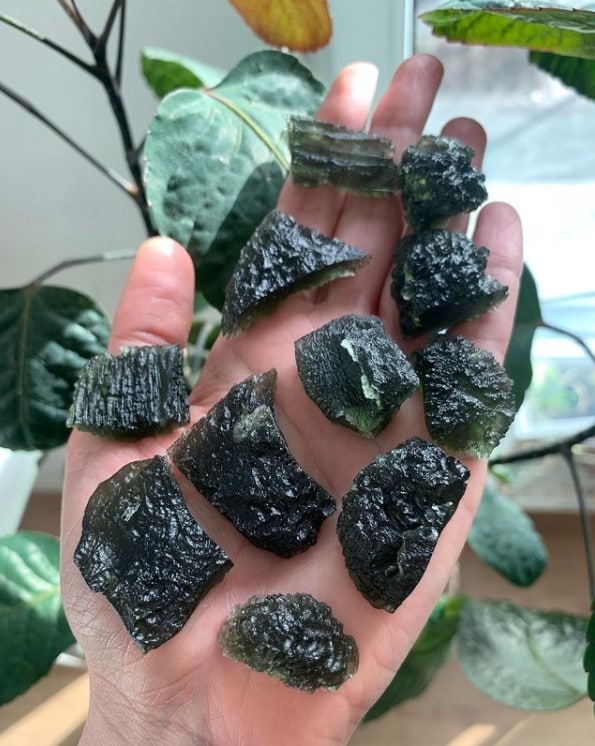 An ancient, dark green stone, the mysterious Moldavite crystal, was formed deep within the craters left behind by the meteor. In the 1900s, earth scientists confirmed that Moldavite exhibited curious features, both physical and energetic.
Its chemical properties are similar to glass and its appearance can range from translucent to dark, dense green. Moldavite features swirls and bubbles that reflect its mossy hues.
The total amount of Moldavite to exist is estimated at 275 tons. And unlike other crystals, it cannot be formed again. Much of it remains buried deep within the Earth. The crystal's rarity is in part due to the careful, costly, and extensive measures required to mine it.
Moldavites can be a brittle crystal and require immense skill to turn into jewelry. Making a moldavite necklace or other type of jewelry requires care with delicate hands for this type of stone!
Moldavite benefits have recently emerged. Beyond its beauty and rarity, this stone is believed to have spiritual and energetic capabilities. Some even consider its powers to be dangerous.
What Does Moldavite Do?
The Moldavite stone has been recently touted as the most potent and transformative crystal. Backed by thousands of first-hand experiences, this mysterious gem and its extraterrestrial origin continue to shock and inspire the mineralogical world.
Within the healing crystal community, Moldavite effects and Moldavite benefits are often talked about, but it's the Moldavite dangers that really need to be discussed to take full advantage of this crystal without negative side effects.
The intensity and danger of Moldavite can manifest in many ways. It depends on the user and their intentions. When handled improperly, Moldavite can energetically shift your reality in ways you may not be prepared for. Consider this your official Moldavite warning.
To best understand what Moldavite will do for you, consider the following:
How often do you wear or work with crystals?
Are you facing a pivotal time in your life?
Can you welcome and embrace major changes?
Do you have any addictions?
Are there emotional wounds that you're willing to face?
Are you susceptible to depression or anxiety?

Unlike other crystals with a lower frequency, Moldavite dangers are present even if using the Moldavite stone as decor or as a simple addition to your crystal collection.
Moldavite is a powerful stone that will hit you as intensely and unexpectedly as it did those who discovered the divine crystal. But only if your open for its energy!
Fortunately, Moldavite dangers don't last long. Once the initial energetic and emotionally charged confrontation occurs, this powerful crystal will become a favored ally in your life.
So if you're wondering what is Moldavite good for, the possibilities are endless.
Moldavite on TikTok
Moldavite Dangers: Fact or Fiction?
The Moldavite stone is incredibly powerful. After all, it was created by a meteorite impact. Imagine the power and energy created by such an impact. All of that is encapsulated into a stone that fits in the palm of your hand.
If you read a frightening Moldavite warning that tries to scare you away from this stone, it's important to understand that this person may have had a negative experience with this crystal because of its intense energy. You can be sure that an emotion can be experienced with Moldavite, only if it's a real Moldavite. Make sure that to learn how to tell the difference between a real and fake moldavite.
Everyone responds to crystals and stones differently (some not at all), but Moldavite truly is special. Even those who do not normally feel anything when holding or wearing crystals usually get a response from Moldavite. For some, the response can be incredibly overwhelming, but fear not!
You are always controlling your emotional responses when it comes to experiencing Moldavite effects. Once you begin to monitor how the crystal interacts with your energy, you can gauge how often you use it, how you wear it, or where you place it in your home.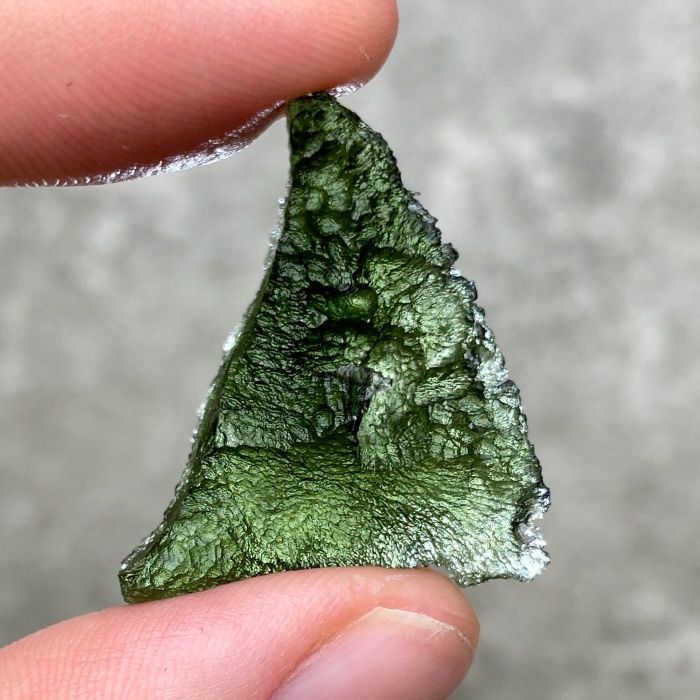 How to Activate and cleanse Moldavite
Moldavite's energy is so powerful, you only need to be in the same room to feel it. However, Moldavite is believed to be even more powerful when activated and cleansed. Activating moldavite requires a special process that will allow you to feel its full power.
Activating your Moldavite crystal opens up an energetic portal that aligns your frequency with that of this alluring gem. Read our thorough article about activating and cleansing Moldavite.
Moldavite is Powerful – That's Its Biggest Danger
So, if Moldavite is so powerful, why would it be considered dangerous by some people? Doesn't greater power equate to greater healing? Perhaps, but healing isn't always rainbows and butterflies.
Sometimes, accessing old emotions that have been tucked away and ignored for years, can feel like peeling a huge, infected scab. But unless you remove and cleanse the emotional infection, you'll never fully heal.
Some people believe that Moldavite can be used to activate and clear blockages in the heart chakra, which explains the intense emotions many people experience when working with this stone. The heart chakra is the center of unconditional love. It is also the place where the deepest emotional trauma is stored.

Clearing the heart chakra will bring up events or emotions like shame, fear, insecurities, anger, resentment, and beliefs that you are not enough or worthy of love.
Much like the deep depths of the Earth where Moldavite is found, this healing crystal can uproot these trapped emotions and aid in freeing you from trauma. Renewing your heart chakra with Moldavite will bring you joy, optimism, and a new sense of hope and belief.
Those who have been working with this stone for years say that it is not uncommon for Moldavite to
Activate or tap into suppressed emotions, like fear, anger, or sadness. These feelings can be incredibly intense, which can be off-putting or even frightening for some people. You may experience a strong emotional release. That can come in the form of laughter, tears, or panic.
Open your eyes and mind to your true feelings. Maybe your relationship, friendships or career are not as enriching or rewarding as you thought. It can be jarring to come to this realization, especially if your emotions are intense or seemingly come out of nowhere.
Generate a sensation of warmth. This is known as the Moldavite flush, and for some people, it can be overwhelming. Some people love the sensation, while others run the other way.
Remove energy blockages from the body. Stress and trauma manifest in the physical body, causing joint stiffness, muscle tightness, shortness of breath, and unexplainable aches and pains. Wearing Moldavite or having it nearby when stretching or doing yoga is thought to elevate the practice and release this stuck energy in the body.
Trigger feelings of exhilaration or even liberation. Freedom is the true feeling of releasing your mental and emotional baggage and being able to be your true self.
Everyone has a unique experience with Moldavite. It really depends on your sensitivity level and what you are going through in life at the moment.
Openness to the Moldavite experience is a primary factor among users. Much like any other belief, the crystal may have little effect if there isn't a certain amount of faith put into the process.
Moldavite Warning – Is moldavite toxic or poisonous?
The answer to whether Moldavite is toxic and/or can make you sick? No.
Moldavite has been called many things in its lifetime, but it's not a poison or anything harmful for humans to ingested unless they have an allergic reaction from something else present on the stone that would trigger their immune system response (like pollen).
It's safe to hold and wear this greenish-blue tektite stone without any dangers of toxicity or poisoning. However, you should take care when handling it so you don't cut your skin with its sharp edges.
So why do people ask this question? One of the reasons might be that Moldavite the type of the green color looks intoxicating and radioactive.
Fortunately, Moldavite only looks like it's out of a sci-fi film and is perfectly safe.
One of the greatest Moldavite dangers is a counterfeit or fake Moldavite. The demand for this rare crystal has notably increased, leading to glass counterfeit Moldavite. Real Moldavite is rough, raw, often contains edges, bubbles, and has naturally-formed imperfections.
If you aren't experiencing the energetic shifts you were hoping for, you may have a fake crystal on your hands.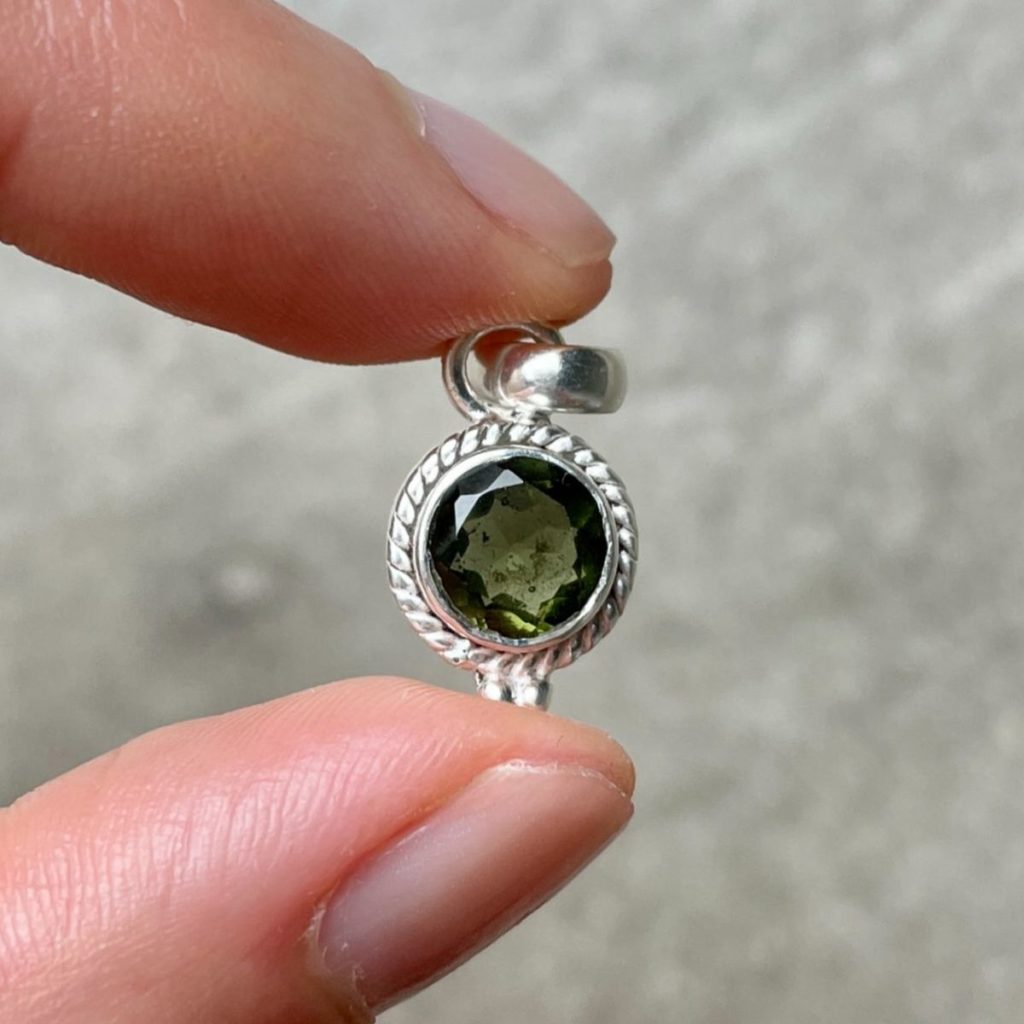 Moldavite Benefits
Moldavite benefits far outweigh Moldavite dangers. To summarize, here are the believed Moldavite benefits and its testimonies.
Release suppressed trauma
Clear energy blockages
Support spiritual healing
Activates the heart chakra
Improve physical agility
Increase authentic expression
Moves stagnant energy
Empowers and strengthens
Activate forgiveness and letting go
Enhances self-awareness and acceptance
Keep in mind, if your experience with Moldavite becomes too overwhelming or feels like too much, too soon–you can reset your intentions. However, many people choose the power of Moldavite because of its aggressive and forthright nature. Here's what some of our users had to say.
Real Experiences of our readers with Moldavite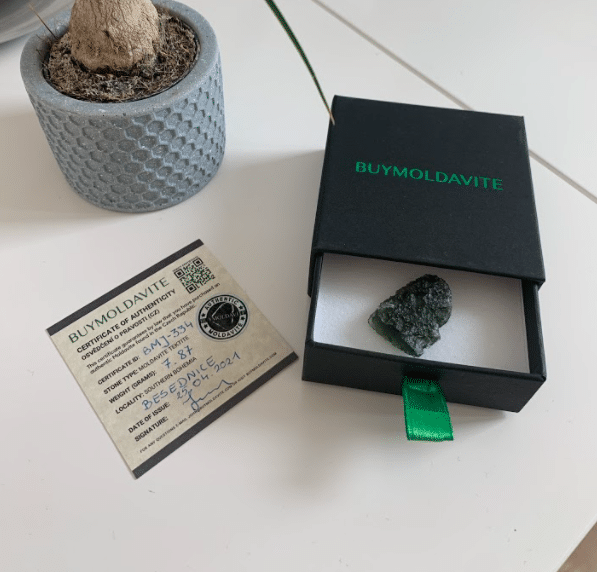 "I had a very intense experience my first time with Moldavite a few months ago, and I still do…but it has elevated my awakening and most importantly — it has removed my FEAR. Almost immediately after purchasing 3 small moldavite pieces after hearing it could increase psychic abilities, I had a sudden vision – a small child was coming toward me out of a cave, and I instinctively put my hand out to pull him toward me out of the cave…I reasoned it was the "arrested child" (lost soul part) of my ex-love, who had just broken my heart by marrying someone else. Or perhaps it was my lost soul part. Anyway, from that point on, I lost any fear and have embarked on a new career that I love. I wanted to tell him about it, but he's gone from my life now, and good riddance. Moldavite is very powerful, and I'm glad I found it. I bought a bigger pendant to wear but find that it can be overwhelming, esp. for other people. I am planning to get an even bigger piece, but want to buy from a reputable vendor like you. I just wish I could touch and feel them before buying. thanks for listening!"

Diane
Hi there I been used since one week and my life is a bit upset downs, crazy things happening some good but a lot of bad too, is this normal I feel so in destress with all this feeling of hate around me.

Vania
I've had 3 moldavite pieces for a few months now, and let's just say I had researched them over 3 years ago but didn't think I was ready for the power it can bring. I am a huge empath, and life is pretty difficult. At 32, and starting off wearing one piece daily, my neck and head hurt 24/7. BAD headaches, so I put it in my car for about two weeks. My headaches stopped. I recently pulled out a charm I had bought with moldavite, rose quartz and watermelon tourmaline thinking it would be a little less intense; but day 2 and the same headaches coming from my neck are back. Also my situation that life has me in, my anger definitely suppresses. Just in case anyone else has headaches from hell when wearing or carrying your moldavite too much and may not be ready for it; definitely warm up to it and do it in smaller segments.

Carissa
Honestly I had headaches too, when we go through trauma, our neurons rework and literally cut new paths in our brain. The mind does this to survive the experience and compartmentalize the trauma. I have this notion, moldavite is trying to heal those broken pathways, if we are to heal those parts of our past. I have had bouts of nausea too but use medication to suppress the symptoms and keep on about my day. I'm convinced this stone is good, divine and if we are choosing to use it acknowledging that we must accept where it wants to heal us. I highly recommend sleeping with it, take it away if it's too strong in waking hours.
I've had some very rich informed lucid dreams.
Namaste

Nova
If there was ever a stone that could say it's been longing to be with me, it's this stone. As soon as I received my first Moldavite stone I placed it in the palm of my hand and went into meditation. The feeling I received was so strong and powerful beyond any stone I have ever held. I knew immediately that this stone loved being with me and wanted to be my teacher and friend. Because of the unique and beautiful reaction I received, I bought another for my husband. Nowadays, I meditate with a stone in both hands. I even place these two stone in my bath water when I'm needing to soak for an hour.

Leslie
I love my Moldavite! I have her for 3~4 months now and I sleep with my beautiful piece every night and I travel with her. I was skeptical at first, thinking that moldavite is just a rare, terrestrial tektite, but I notice positive subtle changes for me. It definitely put me to work and place me in the right places… I got placed in bigger projects at work which was challenging at first but I'm so grateful for the opportunities. I got not 1 but 2 raises for my hard work. My boyfriend and I are getting engaged and I even helped him design my wedding ring. I know I'm just highlighting the positive moments so that people will give moldavite a chance because it only attracts what is truly right for your higher self and of course the road there will be difficult. I love that BuyMoldavite provided my Vita, that's her name.

Wynn N.
Why Everyone Should Experience the Power of Moldavite
Moldavite's unique power and energy have long been used for transformation and healing. If approached from a place of love, respect, and open-mindedness – not fear – Moldavite can help create momentum behind all you wish to change and improve in your life.
Moldavite can also be used with lower frequency crystals to make the experience more gentle.
Ultimately, everyone deserves to experience the Moldavite crystal to join them on their journey toward healing, growth, awakening, and enlightenment. But only a few are brave enough.
Are you ready and willing to experience the transformative and expansive energy of Moldavite?
You can browse our store here, or see our newest raw moldavites below.
All our stones include free shipping, and certificate of authenticity.
Please share with us in the comments, your experience with Moldavite. What positive or negative experiences (or both), have you experienced with Moldavite?