A fusion of sparkling lustre and earthy green facets, the Moldavite Ring is definitely a sight to behold. It's unique jewelry of empowerment, connectivity and spiritual awakening.
If you would like to awaken your loved one's spirit and her inner fire, this female moldavite ring is a perfect choice. It's a must wear for ladies as it offer continuous vibrant spirit and soul. Just so you know, BuyMoldavite also sells moldavite rings for men.
BuyMoldavite Moldavite Ring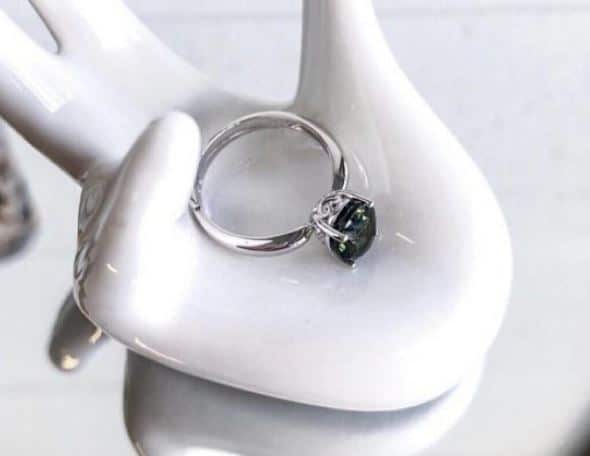 BuyMoldavite offers handcrafted moldavite rings jewelery for the modern Bohemian. All our offerings are always hand-selected with designs including raw gemstones, raw crystals, moldavites, high quality cabochon stones, and more. We support our locals and believe in purposeful craftsmanship – and it's reflected in our pieces. At BuyMoldavite, you'll get to wear something that has a personal story, created out of love with a unique and special meaning to our buyers.
As we work with raw moldavites expect that your piece will vary slightly in shape and color from those shown in the images. Your moldavite stone will not vary in quality from that shown, so rest assured your jewelry will be unique and beautiful.
All our moldavite rings are left without treatment, so you can benefit from it's powerful healing and balancing properties.
Moldavite has a lustrous shine and can easily be cleaned back to a bright shine. Just wipe with a jewelry cloth to brighten it up again.
Aged moldavites give the ring an antique look which will brighten as you wear it.
Moldavite Rings Metaphysical Properties
Being known as a member of the Tektite group, moldavite is a natural glass formed from interplanetary collisions. Unlike other Tektites, moldavite is transluscent and is one of the few stones that are suitable for cutting and faceting as a gem.
One look at our Moldavite rings, you'd realize that it is a stone of greatness. All of our pieces are etherically carved of spiritual fire and destined for purpose. With a mysterious green talisman that is formed from nature's violent meteoric impact, it carries an intense frequency and extraterrestrial energies that are quickly felt upon and while wearing. Wearing our moldavite ring for the first time often produces a sensation of heat in the hand, then progressively flows throughout the body. The moldavite's frequency may take some getting used to, but what's good about it is that it can accelerate one's personal and spiritual wellness making it highly sought after in the metaphysical World.