Are you looking for a LEGIT moldavite jewelry for sale? Shop genuine healing moldavite necklaces only at BuyMoldavite.com. Made from natural raw moldavites, we offer different kinds of necklaces, from bead necklaces to pendants made from raw moldavite crystals. We carry a variety real moldavite necklaces and bracelets.
BuyMoldavite.com Moldavite Necklace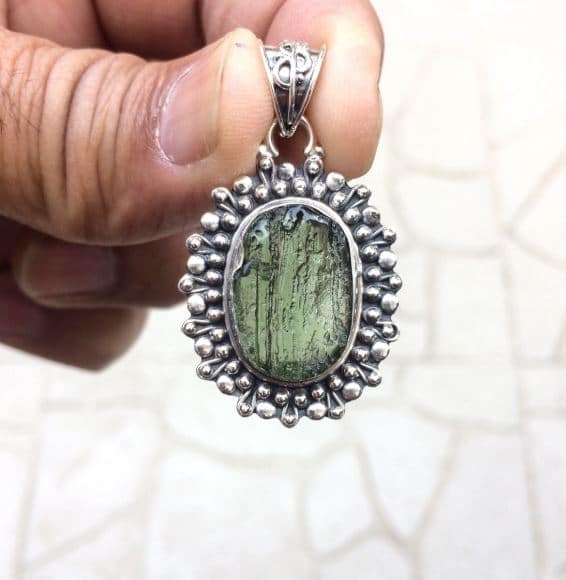 Connect and reflect with our Moldavite Necklace. It comes with a moldavite stone, enclosed in either sterling silver, metal, or gold to promote a harmonic blending of earth and spiritual energies. Pendant shape is determined by cut of stone.
Moldavite is a stone from another world, found in a place where an enormous meteorite crashed into the Czechoslovakian mountain region millions of years ago. This is a spiritual healing stone, with strong energies of spiritual transformation and meditation.
Moldavite is a popular crystal known for its meditation, purification, and spiritual awakening properties. An authentic moldavite necklace is simply perfect for those people who want daily support on their spiritual path.
This genuine moldavite necklace was hand-crafted from raw moldavite pieces with gem-grade transluscent green color ranging from lightly included to eye clean. These rare moldavites were shaped into rounded, disk shaped beads which were then faceted, drilled and strung to make a genuine moldavite necklace, with a metal, silver, or gold clasp & extender chain
BuyMoldavite also offers faceted gemstone bead necklaces available in a variety of other natural gemstone materials including healing crystals, amethyst, iolite, aquamarine, rose quartz, labradorite, pink tourmaline, sunstones, and many more.