So, you want to buy a moldavite. But where do you begin? If this is your first time buying this magical stone, you may not know what to look for, what you want, or where to find genuine stones.
We are here to help! In this guide, we will cover how to choose a moldavite, where they come from (localities), and how to ensure that you buy a genuine stone.
First of all, we would like to mention that all the Moldavites we sell are real and natural, have not been treated in any method (such as dying or heat-treating), and all our stones come with an official BuyMoldavite Certificate of Authenticity (including jewelry and other tektites like Colombianite and Libyan Desert Glass).
How to Choose a Moldavite
Moldavite is a unique stone with unique shapes and formations. Choosing one is a personal decision, but there are a few things that you will want to keep in mind when weighing your options.
When choosing a moldavite, the first and most important thing you need to consider is whether you want a piece of jewelry or a raw stone. Both have their benefits. Ultimately, it comes to down to personal preference and how you want to use the stone.
Moldavite Jewelry
There are many advantages to choosing jewelry over a raw stone:
It's beautiful. Moldavite is a stunning stone that looks great in any jewelry piece.
It's with you all the time. Whether it's a necklace, ring, bracelet or earrings, you'll carry the stone's energy with you wherever you go.
If you're giving moldavite as a gift, jewelry is a great option because of its beautiful presentation and easy use.
We have a wonderful collection of moldavite jewelry with different styles and prices to fit every taste and budget.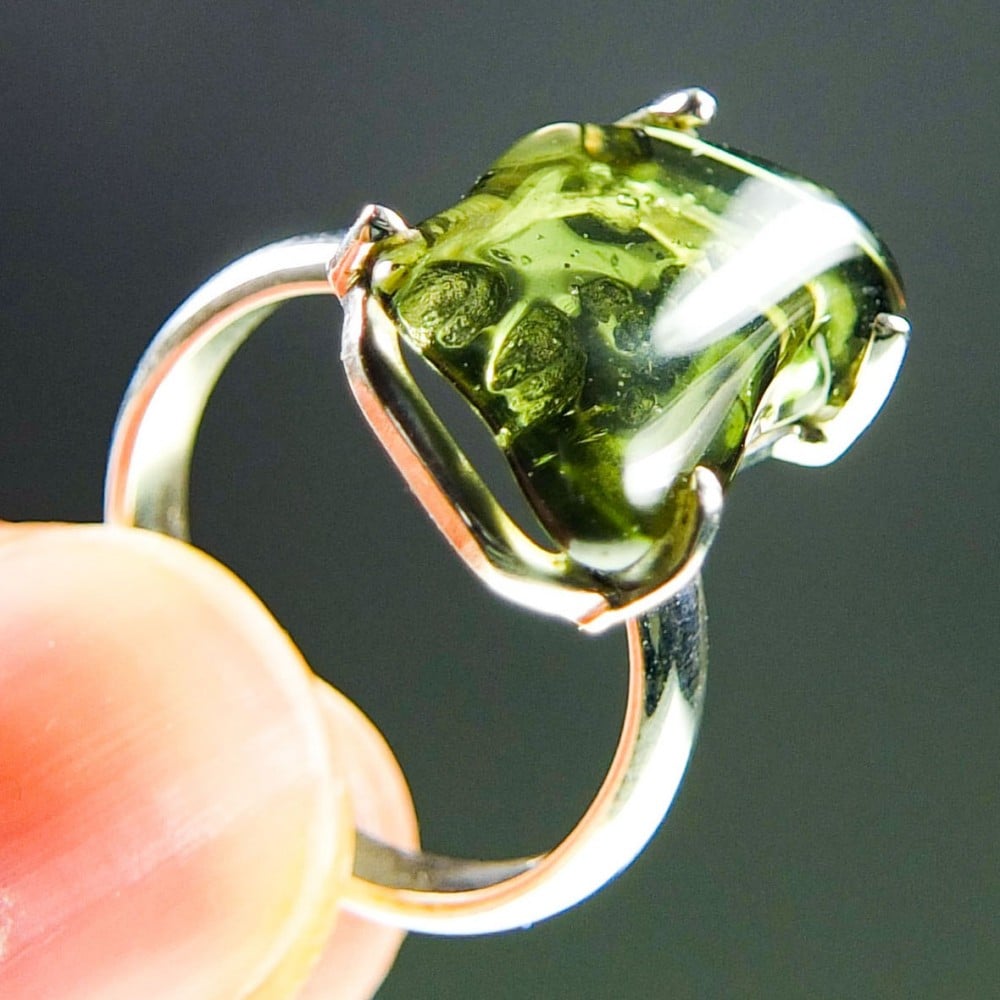 Raw Moldavite
A raw moldavite stone is exactly what it sounds like – an unprocessed stone in its natural form. Raw moldavites can be just as beautiful as their jewelry counterparts. Each stone has its own unique shape and texture.
You may prefer a raw stone for several reasons:
You want to make your own jewelry
You can do energy work with it
You can mediate with it, take a walk with it, or place it under your pillow
There are many ways to work with raw moldavite.
If you are going with a raw stone, one thing you might consider is the shape. There are several to choose from:
Drops, or teardrops
Oval
Discs and half-discs
Spheres
Cylinders
Fragments
Dumbbells
We have a variety of raw moldavites in different shapes, weights and grades. You are sure to find one that speaks out to you.
Moldavite Grading
Some of our Moldavites are graded as A/A+/A++/A+++. Many of our customers are asking why do we grade the Moldavites that way, and if there is any change to the healing properties of the Moldavite.
Moldavite Grades
Grade
Weight
Level of perfection
Texture
Regular
less than 5 grams (25 carats)
May have noticeable chips or chips.
Smooth or minor surfacing.
Superior
5 – 20 grams (25 – 100 carats)
Larger size possible minor chips
Smooth or minor surfacing.
Museum A
Over 10 grams (50 carats)
Larger size. Possible minor chips or chips. This class includes Besednice Hedgehogs with minor chip/s.
This grade is based on quality rather than texture, except in the case of Besednice Hedgehogs where the texture will always be great.
Collector
Museum AA
over 20 grams (100+ carats)
Close to the top level of Moldavite perfection. This grade is only slightly inferior to the perfection of our Reserve Grade – due to a matter of opinion – my opinion that it didn't quite make the cut.
Good texture, color, and shape.
Reserve Museum AAA
Over 20 grams or Perfect Besednice Hedgehogs of any size.
Perfect Moldavites only, no chips. Includes perfect Besednice Hogs of any size. Expect to pay accordingly.
Great texture and desirable shape. Perfection.
The answer for this is that the grading only means how perfect is the shape of the Moldavite and how rare it is to find this kind of shape. When the shape is more round, spiky, and perfect, the price goes up. It does not mean that the Moldavite is worthless, or not natural, or has fewer properties and benefits. The grading is only the quality and shape of the Moldavite, and as the quality and shape are nicer and more perfect, the price can go up.
Where and how is Moldavite found?
Genuine Moldavite is found in several localities throughout the Czech Republic, but not only there. Some have even been found in Germany and Austria! They are often discovered after a rainy day; however, they can also be unearthed by digging around 10 feet deep and locating them on the walls of your pit. Digging for Moldavite has been outlawed since 2004, thus forcing many to remain hidden within forests that surround these areas.
Another interesting thing, is that stone shapes, colors and textures vary slightly from locality to the next. Moldavite is quite rare, but it can be found if you know where to look. Some people even found it in while digging in their backyard!
Famous examples of this include a geologist who had been living on his property for many years and never knew about the value of what he was sitting on- until he noticed an intense green reflector that turned out to be a piece of moldavite. The stone has become very valuable because there's not particularly much available.
Moldavite Localities
České Budějovice Strewn Field
The vast majority of moldavite on the market today comes from this strewn field, and it includes some of the most well-known localities, including:
Besednice
Moldavites from Besednice are some of the most sought after because of their unique hedgehog shape and delicate appearance. The patterns and deeply sculpted textures of these stones are incredibly intricate.
Besednice moldavite is rare because since the closing of the mine, it is no longer possible to dig for new ones.
Check our collection of rare and exquisite Besednice moldavites.
Ločenice
A long-known locality that is situated just a few kilometers north of Besednice. Newly mined stones from Ločenice are stunning and give Besednice moldavite a run for its money.
The color is rich and robust (deep yellow-green), and the glossy surface is slightly smoother than the more delicate Besednice.
Chlum
Many moldavite stones on the market today come from Chlum, and this locality has produced some beautiful pieces. The stones from this mine are exported primarily to China.
Vrábče
Moldavite deposits are found in three areas of this region. Stones found here have beautiful sculpting and a rich green color.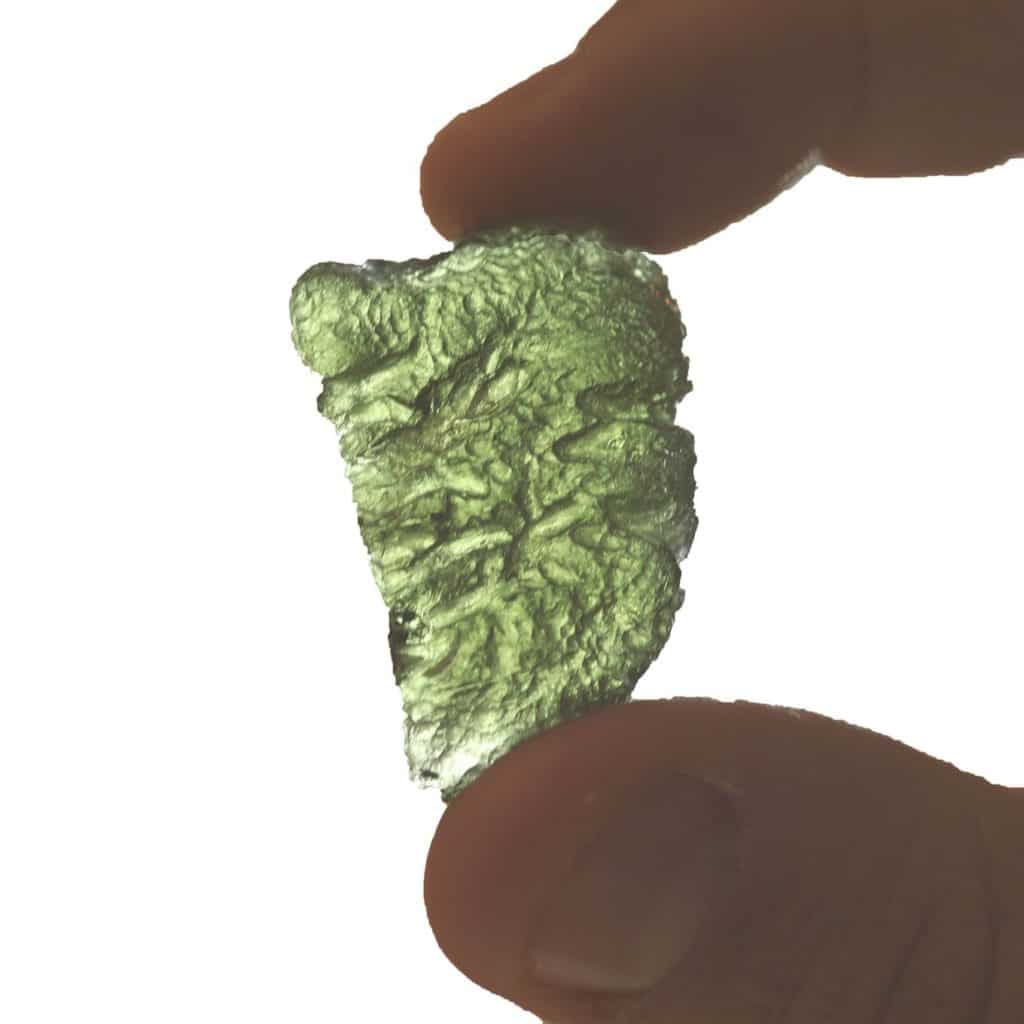 Radomilice Strewn Field
Located in Southern Bohemia, this strewn field covers:
Vodnany
Prachatice
Tyn nad Vitavou
Zliv
There are no active mines in this area. All finds have been surface picked after bouts of heavy rain.
This region produces larger and clearer moldavites with breathtaking colors. You will find the best quality stones in Netolice, Radomilice, Malovice and Cerneves.
It is rare to find pieces from here, and the supply is unpredictable. Nevertheless, the moldavite from this strewn field is stunning.
Cheb Strewn Field
A newly discovered, small field with six localities producing moldavite. Only about 2,400 stones have been found here, with the largest being 36 grams.
Moravian Strewn Field
There are more than 50 known localities in this region. The first moldavites were discovered in Trebic at Slavice and Kozichovice. This strewn field has produced some of the largest, rarest, and most valuable moldavites. The largest stones ranged from 150 to 238 grams.
Unfortunately, there is no active mining going on in this region. All specimens that have been found were discovered mostly by farmers after heavy rains.
What is Angel Chime?
On your quest to find the perfect moldavite, you will find something unique: Angel Chime Moldavite. They are also known as singing moldavites, and its name says it all.
These stones produce a chiming or singing sound when rubbed against a hard surface or another moldavite. They are rare and special stones, accounting for only 1% of all moldavites. Like the sirens of the sea, you will fall in love with their songs.
We have a growing collection of Angel Chime moldavites. Check out the video on our page to hear these stones sing.
Avoiding Fake Moldavite
Moldavites are some of the rarest stones on earth. There is a finite supply, and they can only be found in one region of the world. Unfortunately, there are many sellers out there offering fake moldavite stones, and unless you have seen a genuine specimen in person, you may not know how to tell the difference.
If you are going to invest in moldavite, you better make sure that it's a genuine stone.
Here are some pointers:
Analyze the color. Real moldavite is dark, mossy green. If the color is a bright and vibrant green, it is probably not a moldavite.
Look at the texture. Genuine moldavite has deep pockets and peaks, which makes it difficult to produce a smooth finish.
Ask about the origin. If the seller claims the stone came from somewhere other than the Czech Republic, you can be sure that it's a fake.
Spotting a fake moldavite does not have to be difficult. Check out our guide on how to identify real moldavites.
At BuyMoldavite, we offer an authenticity guarantee, so you can rest assured that you are purchasing a true moldavite.
Browse our store here or see our newest raw moldavites below.
---